A Visit to Jane Austen's House, Chawton
by Laura N
Two weeks ago my husband and I visited Jane Austen's house in the village of Chawton in Hampshire. After a few days of the hustle and bustle of London, this trip was a refreshing and relaxing day.
The house is a fairly good size brick cottage with a beautiful, lush garden to the side and back. It has been lovingly kept up and opened as a museum.
The rooms have been restored and many items are on exhibit: Jane's writing desk, her father's bookcase and chairs from Steventon, a lace collar and patchwork quilt that Jane made and the topaz crosses that her brother Charles gave to Jane and Cassandra, just to mention a few.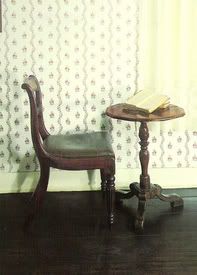 Jane's writing table
The wallpaper is not the original, but was donated to the house by the Laura Ashley company. There are a few scraps of older paper displayed that were found when the house was restored. In one of the out buildings, the donkey cart used by Jane when she was too ill to walk can be seen. In the bedroom she shared with Cassandra, a chair is set to the side of the fireplace, with a small stool on the other, as it might have been when her niece Caroline visited her for the last time before Jane's death.
My favorite of the day was seeing and hearing the 1810 Clementi square piano in the drawing room.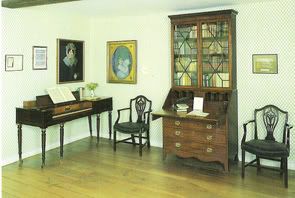 the drawing room with the 1810 Clementi square piano
This is not the pianoforte Jane had, but it is from the same time period and has the same sound that her piano would have had. The staff allowed my husband to play, and I could not get enough. David played some Mozart, but the best was when he played a Clementi sonatina. He had opened one of the piano books nearby and made a random selection. Turns out, it was the piece Georgianna plays in P&P 1995, after Elizabeth has left Lambton and Darcy and others are in the music room at Pemberley. Darcy is much distressed in the scene and snaps at Caroline before storming out.
Anyway, David entertained us with several selections and it was the icing on the cake for me.
The gardens are delightful (don't I sound like Aunt Gardiner here?), so peaceful and beautifully laid out. Most of the plantings are not from Jane's time, but if you visit, notice near the house two extremely old, large yews, now trees. They would have been there in her time. The roses are beautiful.
We also took a walk down the road to the church and Chawton manor, where Jane's brother, Edward, lived. I would encourage anyone who visits to take that walk. There are farms and park like settings along the way, complete with sheep and lambs grazing. Along the way is a very large old beech tree. David doesn't think it would have been old enough to have been there in Jane's time (He's the botanist in the family; I am the shoe expert/collector.), but in one of her biographies (by David Nokes) it mentions her strolling the grounds to Chawton Park, 'a noble beech wood.' I like to think the beech I saw was a descendant of that original beech wood.
The church is open and we were able to go in. Mrs. Austen and Cassandra's graves are also in the church cemetery.
The small village and street are charming. On both sides, there are old, well kept-up, thatched cottages. Directly across the street is pub, The Greyfriar House, its premises about 400 years old. Be sure to take a walk down the street if you go.
There is also a tea room, Cassandra's Cup, but note that as of this summer, it is closed Mondays and Tuesdays.
I found the staff at the house to be helpful and friendly. But I must warn you, if you are a fan of the 2005 P&P and/or Matthew MacFadyen, keep it to yourself. These women are diehard Colin Firth/P&P 1995 fans, and they will let you know. One of them told me that MacFadyen simply saw the role as another job, 'He never bothered to read the book!' She went on to tell me that Firth visited the house three times in preparation for the role. Well, how can you beat that?
If you go, you will note that the house site gives directions how to get there. They are all perfectly good except for the bus. We did not take the bus from the train station. We took a taxi instead (very easy to get, both ways), and I suggest that you put aside a bit of cash (about $10 each way) and do that. The bus drops you a fair bit from the house and at a very busy overpass on the highway. There is a stretch were you must walk without a sidewalk on a busy street until you get onto the village lane.
Here is the site for the house/museum:
And here is a NYT 1988 article about the house that I think gives a very good description:

Jane Austen's bracelet,
and the topaz crosses given by her brother Charles.
A few extra words from your administrator...
After her visit to London, I had the pleasure of Laura's company in The Hague where we spent some wonderful days together. From Chawton House she brought me several delightful objects such as a facsimile of a letter written by Jane, note cards, postcards, and, on top of that, an interesting CD called 'An Innocent Diversion', with descriptions of Jane, and songs and music included in Jane Austen's music books in a presentation for the Jane Austen Society in St. Andrew's Church, Clyton, 4th October 2003.
Unnecessary to tell that I'll cherish these objects always. :) R~
---
Never say never: Report of the TEOR press conference
Amsterdam. November 8th 2004
Renée Olsthoorn
After a photo call of barely ten minutes, during which our poor stars assume all requested poses, it's time for the actual press conference. But before that I manage to call out to Colin Firth and give him the Mauritshuis catalogue I had wanted to give him in The Hague at the premiere of GWAPE. He doesn't immediately understand what it is, but when I explain to him that the book is old, but the contents of the Mauritshuis much older, and that I had wished to offer it to him last spring in The Hague, he thanks me twice, casting me a broad smile. My reward, I guess.
We are not allowed to take any more pictures. The room is filled with representatives of all possible media; TV, radio, written press of course and... as the Algemeen Dagblad wrote: "Even somebody from a Colin Firth fansite." Exactly, that's me.
Under the expert guidance of movie and celebrity journalist, René Mioch, the half hour's interrogation of a couple of movie stars starts. My heart is pounding, I simply must ask at least one question, I must, I must! I stick up my hand half way, then a little higher and finally my entire arm waving to René to draw his attention, trying to get eye contact. He nods yes! My turn will come.
But first, a couple of journalists even more impertinent than I get the chance to ask Renée about the eternal weight issue and if she recognizes certain traits of Bridget in herself. Apart from these too often asked questions somebody asks if she feels responsible for the fact that so many women identify with Bridget. Renée explains that she doesn't really feel responsible for the character and its effect on so many women, but that she's proud and grateful to have been given the opportunity to give shape to her. She sees it more as a gift. She definitely recognizes certain traits in herself, probably because they are universal for women: concerns for her appearance, the fear of failure. But she admires Bridget for the fact that she always manages to pull herself together to move on, in spite of all her blunders or bad luck.
A pretty female journalist asks Hugh if he'll go out with her. "In order to be able to answer that, I have to put on my glasses first," he replies wittily. Subsequently Hugh has to reply to the question "can he identify with Daniel Cleaver", to which he responds that he sees Daniel as his naughty nephew. Colin is asked why Mark Darcy is even more arrogant than in the first BJD. Colin doesn't agree altogether. He prefers to see him as an old-fashioned rescuer of mankind. "He's not a human rights lawyer for nothing! I don't believe we had intended to make him look more arrogant than before." He says.
To the question whether a male Bridget would be possible, Hugh replies in the affirmative and that there's but one difference: biological. To a question about the acting profession Colin answers that it's starting to become a little embarrassing. "Must be an age thing, but I always like to be on a film set. And this time I put myself completely in her hands." And in a friendly way he points out director Beeban Kidron sitting next to him.
Beeban Kidron for her part said that the responsibility for the direction of this movie weighed heavily on her shoulders since the first was such a huge success. "BJD1 is a precious inheritance which one can't take lightly."
Renée refuses to answer the question who's the best kisser. I'm dying to know, but I guess she's right. She's too professional to make a fool of at least one of them. It's nobody's business anyway. She concludes by praising Amsterdam. It's a beautiful city she says and she's very happy to have had the time to enjoy the old buildings and the canals.
And then it's my turn. I state my name and present myself as the representative of the only French/Dutch Colin Firth fansite. Colin Firth looks a little sheepish and I'm not sure whether he likes it or not...
"Mr. Firth, There is talk about BJD III. Would you be willing to participate in another sequel and if so, do you think there's still some room to explore Mark Darcy's character? For instance as the husband of Bridget's being an insecure mother?" The audience laughs.
Colin looks genuinely surprised. "A third Bridget? No, I absolutely know nothing about that." It seems highly improbable to him. "Even before the script was written for the first Bridget Jones I didn't believe it could work. I was so surprised that it was a success. And I had even more doubts about the second. I was very skeptical. Well, maybe if the script is really funny and takes the lid off Darcy's character." When I ask him if he's thinking of a satirical Darcy, he replies affirmatively and adds, "As I see it now, it seems very unlikely, but in the movie world one should never say never."
When the press conference ends everybody heads toward our stars for an autograph or one last burning question. Hugh Grant disappears immediately and Colin Firth is about to follow his example, but I ask him to stay just one second and sign my copy of 'Speaking With The Angel'. When he sees what I'm holding in my hand, he says surprised: "My goodness! What's your name again?" "Renée." I reply. "Like her?" He asks, pointing out Renée Zellweger. "Yes, exactly like her." On the title page of his own story in the book he then writes: 'To Renée, all the best to you, Colin Firth'.
"Do you have plans to write more stories in the future?" I ask him. "Oh yes, I am, definitely," he replies resolutely. When he hands the book back to me, I thank him gracefully. "My pleasure, goodbye." And again he casts a broad smile in my direction. My eyes follow him as he leaves the room and I can't help feeling grand!
I can hardly believe it, but as I'm writing this piece two morning newspapers have published a part of Colin Firth's reply to MY question and a few others mentioned that 'even a representative of a Colin firth fansite was present'. I think I'm a little proud, just a little... At least, I'm very happy to have gotten the opportunity to experience an afternoon like this.
One final, but relevant observation in this context: contrary to what is said in the media here and there, Colin Firth is still a very handsome man, even when appearing as himself. And he's definitely ageing very well.
Copyright held by Renée O, 2004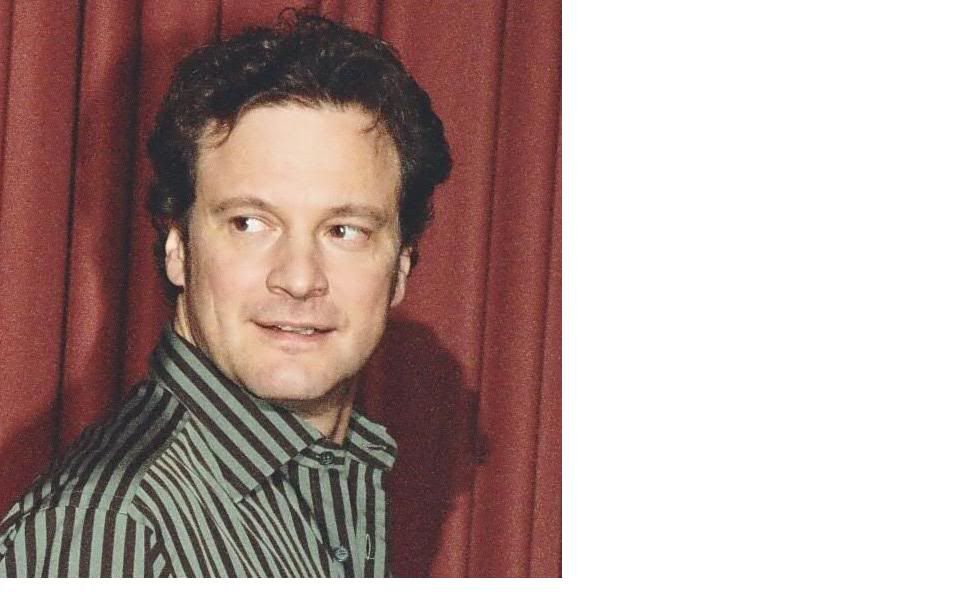 Photo: Simone Olsthoorn, 2004